Live Stream Library
Live Stream Library
WHAT WILL ULTIMATELY HAPPEN TO DONALD TRUMP? If you don't like Tom's political opinions or you don't like hearing him talk about politics, be sure to skip this episode of the podcast in which Tom tells you what's in for Donald Trump. He knows.
Here's the article Tom refers to in this episode: Here's everyone who has been charged and convicted in Mueller's Russia probe so far.
If you have comments or questions on or if you have issues with what Tom has to say in this episode, send your threats and trolling comments directly: tom@blowmeuptom.com.
WHY BAN ONE CHRISTMAS SONG AND NOT ANOTHER? a radio station in Cleveland says it has banned the holiday favorite song, Baby, It's Cold Outside because, it says, it has received complaints about the song in light of the so-called #MeToo movement. But is that the only potentially "offensive" Christmas song? Listen and decide for yourself!
Here is an article Tom used to prepare for this episode: 'Baby It's Cold Outside' pulled from Cleveland radio station amid #MeToo movement.
Baby, It's Cold Outside first appeared in the 1949 MGM film Neptune's Daughter where it was performed by two couples, one played by Esther Williams and Ricardo Montalbán, and the other played by Betty Garrett and, of all people, comedian Red Skelton, and in their version, the roles of the predator and the pressured are reversed! This song won the Academy Award for Best Song in 1949. Take a look at the original movie clip and pay attention to the lyrics as well.
On the other hand, Santa Baby was originally recorded by Eartha Kitt with Henri René and his orchestra in July 1953. Take a listen to the song and its lyrics here. If Baby, It's Cold Outside should be banned from being played on radio, shouldn't Santa Baby also be banned?
Send your comments directly to tom@blowmeuptom.com.
TOM'S INFAMOUS, DISASTROUS FIRST "ORPHAN THANKSGIVING"  let Tom take you back in time to when he was 23, to when his dad stopped talking to him and to when he came up with the idea of a holiday dinner without the hassles of an actual family. It did not end well.

<-----This is where it happened: in a rent-controlled building on the second floor of 216 West 89th Street, at the corner of Broadway, on New York's Upper West Side.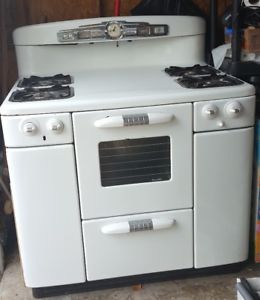 This looks exactly like the ancient apartment-style gas stove in which Tom made the turkey and into which everyone at his first Orphan Thanksgiving started to stick their grubby hands. ---------------------------------------->
WHAT THE HELL HAPPENED? How did an amazing sellout evening with 40 of Tom's biggest fans turn into this? One thing's for sure: if we ever do another dinner, you'll want to be there to see what happens next!
Send your comments to tom@blowmeuptom.com.
HARVEY WEINSTEIN: NOT GUILTY? Tom talks to men's rights advocate Paul Elam of A Voice For Men. He'll tell us why he believes that disgraced former Hollywood mogul Harvey Weinstein is not guilty! Why convicted felon Bill Cosby was railroaded! And, hear why Paul believes that the #MeToo movement has damaged American men.
Email your comments and any questions to tom@blowmeuptom.com.
ARE UNMARRIED GUYS AS HAPPY AS YOUR MOM SAYS? Science proves Your Professor right once again. Apparently, unmarried guys aren't as pathetic as women's magazines and TV shows make us out to be. But the blogger Tom talks about here still uses outrageously offensive language to describe those of us smart enough not to sign the papers.
This is the piece Tom is talking about.
Write Tom with your questions and feedback at tom@blowmeuptom.com.
Pages