Tom Talks
Tom Talks
WHO TO HELP AND WHO TO AVOID Do friends, family members, neighbors, co-workers, and acquaintances hit you up for money or other kinds of assistance? Tom's recent tweet about who he believes in helping financially and, more importantly, who he doesn't, sparked an awful lot of blowback as well as questions on social media. Who is a friend? Who isn't? Who deserves to be bailed out when they're in need? How important is it to make rules for your own life? Listen and find out!
YOU COME FIRST! Are you depressed? Feel sad? Unsatisfied? Feel like your life or your career is going nowhere? What went wrong? Tom knows! Listen to this episode and soon, you'll know!
What do you think? Write directly to Tom and tell him: tom@blowmeuptom.com.
SECURITY...HOW CAN YOU HAVE IT? Most of us are raised to aspire to security in life. But what does that mean? And how do we get it? In response to a listener email, Tom tells you the reality of getting and having security.
Write Tom directly about this episode, or ask Tom a question for a future episode: tom@blowmeuptom.com.
WHERE HAS TOM BEEN? why has Tom gone missing since the episode released on January 26, 2019? Usually, Tom lives a charmed life. But not the last ten days.
Write directly to Tom at tom@blowmeuptom.com.
TOM RETURNS TO THE SCENE OF THE CRIME There was no new podcast on January 9th. That's because, on January 8th, Tom had to bring his pickup from the ranch in Northern Santa Barbara County to Burbank to begin collecting his gear, numerous possessions, and many memories of six-and-a-half amazing years. What was that like? Who was there? How did it feel to be back? How does Tom feel knowing that he's giving the keys back in just a few weeks? It's all right here.
Click here to see Tom's photos taken on January 8, 2019 as The New Normal Studios are being dissembled.
DEAD POOL 2019 you asked for it and here it is! Which celebrities will drop dead in 2019? Many of our listeners responded and Tom has a list all his own. Play along with your friends, family, or co-workers! Have everyone make a list of ten celebrities. Then, as each one dies, players get 100 points minus the age of the victim for each right guess. Whoever has the most points at the end of the year is the winner!
Send your comments directly to Tom himself at tom@blowmeuptom.com.
WHAT THE HELL HAPPENED? How did an amazing sellout evening with 40 of Tom's biggest fans turn into this? One thing's for sure: if we ever do another dinner, you'll want to be there to see what happens next!
Send your comments to tom@blowmeuptom.com.
FEAR OF FAILURE are you afraid to leave your comfort zone? Turn out the lights, sit back and enjoy your favorite glass of wine (Tom did! See below.) and hear why failure is a good thing!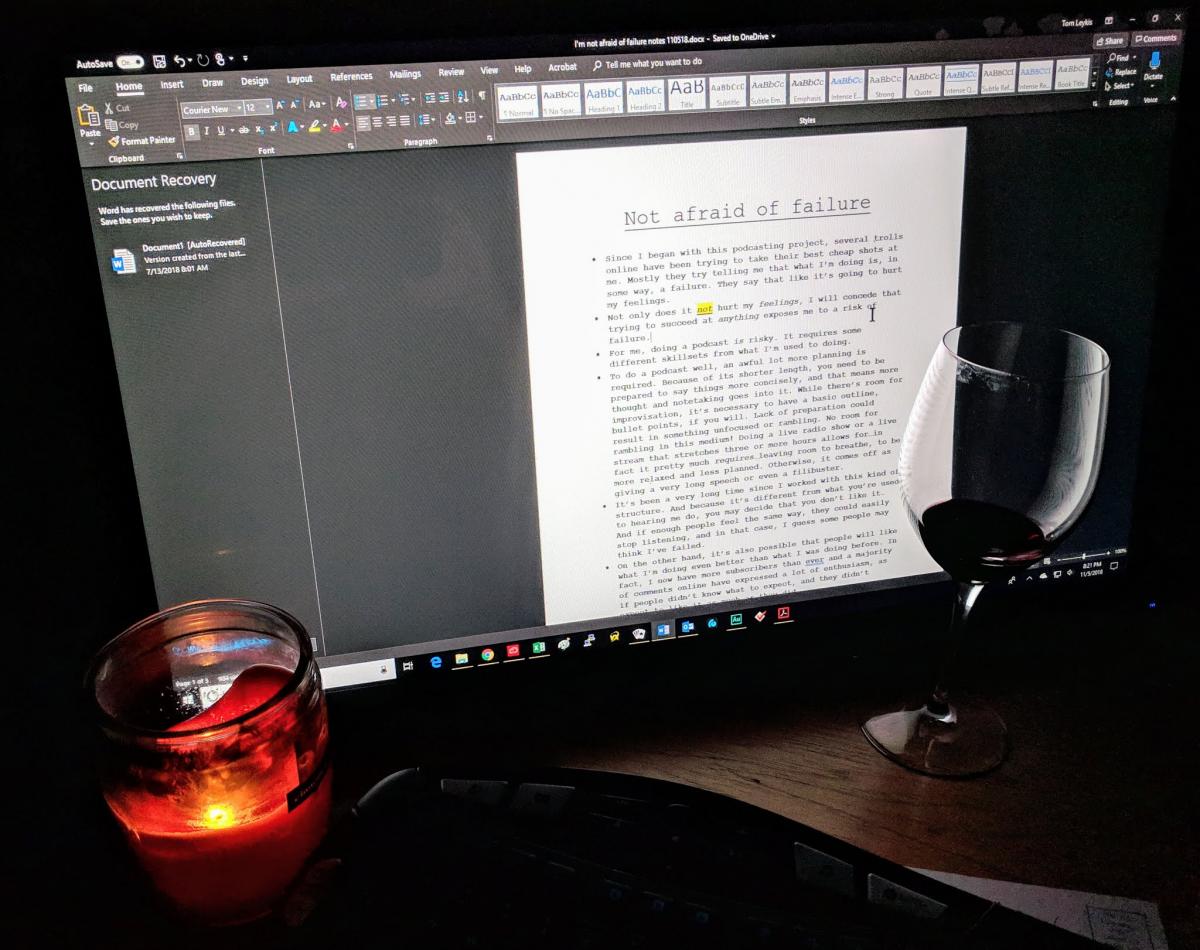 Send your feedback to tom@blowmeuptom.com.
Pages