On-Demand Stream Library
ALERT: Please click the calendar date or listen now button for a listing of On-Demand Streams!
Latest Shows
ANOTHER YOUTUBER HAS HIS BUSINESS TAKEN AWAY Why is our podcast behind a paywall? This incident is a perfect example of why we can't make our content freely available to all, supported by national advertisers. In this episode, Tom tells you how social media tattletales, feminist whiners, Millennial emos and Wall Street combine to strangle free expression in the world of social media. Speaking of free expression, in this episode, we also invited our followers to call in and say absolutely whatever they wanted. Those who don't like it can't hear it and therefore can't complain about it and try to get our content taken down. But you can hear it by clicking below!
Here's the story to which Tom refers in this episode.
Of course you have an opinion about this! Let's hear it: tom@blowmeuptom.com.
LATE NIGHT TOM ON THE BEACH Light a candle. Grab some ice, pour your favorite beverage. Or, wrap yourself in your blanky for this very personal episode direct from an deserted stretch of beach. Tom will tell you all about where he is and why he's there.
CHRISTIAN MAJOR LEAGUE BALLPLAYER BOOTS HIS CHRISTIAN POP STAR WIFE ALLEGING "INAPPROPRIATE MARITAL CONDUCT" Chicago Cubs second baseman Ben Zobrist filed for divorce from his Christian pop star wife Julianna Zobrist contending that his wife "has been guilty of inappropriate marital conduct which renders further cohabitation impossible," which, we guess, means that he claims that she's been screwing around while Ben has been out there earning a massive paycheck, telling everyone what great Christians they are, and how you should be one too.  What does this teach us about marriage, "love" and religion? Here, Tom sets everything straight!
Click here for the video Tom talks about.
In this episode, Tom refers to this article about the Zobrists' pending divorce.
In this piece, Ben Zobrist refers to himself as a "missionary to baseball" before we all found out what was really going on at his house.
Click here to see how you can hire Julianna Zobrist to lecture your group about how "to express the joy and freedom of knowing that Christ gives them the strength to be bold, fearless, and confidently vulnerable knowing that you don't have to measure up to what others think of you but rather, knowing your true strength can shine because of who you are in Christ." That is, when she isn't busy being accused of "inappropriate marital conduct".
HOW NOT TO BECOME JULIO URIAS Dodgers pitcher Julio Urias was arrested and charged with domestic battery after he allegedly "pushed a female companion to the ground" during an alleged argument in the parking structure at LA's Beverly Center. The woman denied that anything physical happened, but others insisted that the alleged incident had indeed happened and that there was video evidence to prove it.  But isn't this true? If he didn't bring a girlfriend to the mall, he wouldn't have spent the night in jail, right? Hear Tom's response to the Hashtag Lynch Mob that's coming after Your Professor for telling the truth, find out why this could be YOU and how to make sure this never happens to you!
Here's the original story Your Professor saw before posting his tweet.
Agree or disagree? Tell Your Professor: tom@blowmeuptom.com.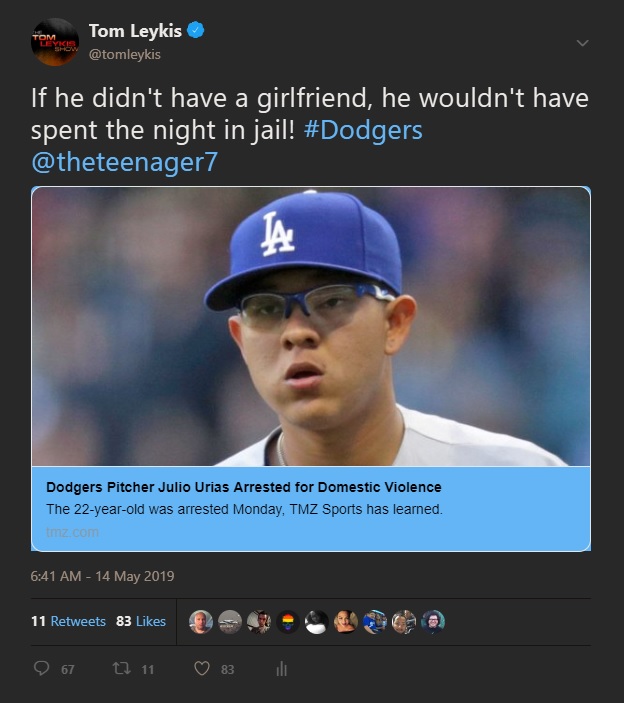 Pages