Tom Talks
Tom Talks
WHO TO HELP AND WHO TO AVOID Do friends, family members, neighbors, co-workers, and acquaintances hit you up for money or other kinds of assistance? Tom's recent tweet about who he believes in helping financially and, more importantly, who he doesn't, sparked an awful lot of blowback as well as questions on social media. Who is a friend? Who isn't? Who deserves to be bailed out when they're in need? How important is it to make rules for your own life? Listen and find out!
YOU COME FIRST! Are you depressed? Feel sad? Unsatisfied? Feel like your life or your career is going nowhere? What went wrong? Tom knows! Listen to this episode and soon, you'll know!
What do you think? Write directly to Tom and tell him: tom@blowmeuptom.com.
SECURITY...HOW CAN YOU HAVE IT? Most of us are raised to aspire to security in life. But what does that mean? And how do we get it? In response to a listener email, Tom tells you the reality of getting and having security.
Write Tom directly about this episode, or ask Tom a question for a future episode: tom@blowmeuptom.com.
WHERE HAS TOM BEEN? why has Tom gone missing since the episode released on January 26, 2019? Usually, Tom lives a charmed life. But not the last ten days.
Write directly to Tom at tom@blowmeuptom.com.
TOM RETURNS TO THE SCENE OF THE CRIME There was no new podcast on January 9th. That's because, on January 8th, Tom had to bring his pickup from the ranch in Northern Santa Barbara County to Burbank to begin collecting his gear, numerous possessions, and many memories of six-and-a-half amazing years. What was that like? Who was there? How did it feel to be back? How does Tom feel knowing that he's giving the keys back in just a few weeks? It's all right here.
Click here to see Tom's photos taken on January 8, 2019 as The New Normal Studios are being dissembled.
DEAD POOL 2019 you asked for it and here it is! Which celebrities will drop dead in 2019? Many of our listeners responded and Tom has a list all his own. Play along with your friends, family, or co-workers! Have everyone make a list of ten celebrities. Then, as each one dies, players get 100 points minus the age of the victim for each right guess. Whoever has the most points at the end of the year is the winner!
Send your comments directly to Tom himself at tom@blowmeuptom.com.
CHRISTMAS IN THE BRONX/JEAN SHEPHERD'S RADIO VERSION OF A CHRISTMAS STORY  Here it is: Tom's annual Christmas gift to all the P1s! In the first two hours, Tom tells about his lifelong relationship with the Christmas holiday. Then, Tom introduces you to his broadcasting idol growing up, Jean Shepherd, creator of the characters in the classic holiday film A Christmas Story. You've probably seen A Christmas Story, but did you know that it began as a story told on the radio when Tom was a kid? Hear the story of Ralphie, his brother Randy, and the Red Ryder BB gun as it was originally told by one of America's all-time great storytellers...and Tom's biggest influence in his style of storytelling. An exact, unedited recording of the original aircheck from WOR/New York just as Tom heard it under the covers on the night of Christmas Eve! We recommend listening late at night, under your tree or under the covers, for the full effect. 
NOTE: Super Premium subscribers will hear the original WOR commercials from the late 60s for the sake of authenticity on the Jean Shepherd segment. No paid commercials from The New Normal LLC can be heard here.
TOM'S INFAMOUS, DISASTROUS FIRST "ORPHAN THANKSGIVING"  let Tom take you back in time to when he was 23, to when his dad stopped talking to him and to when he came up with the idea of a holiday dinner without the hassles of an actual family. It did not end well.

<-----This is where it happened: in a rent-controlled building on the second floor of 216 West 89th Street, at the corner of Broadway, on New York's Upper West Side.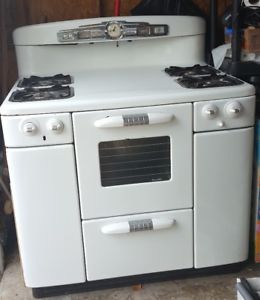 This looks exactly like the ancient apartment-style gas stove in which Tom made the turkey and into which everyone at his first Orphan Thanksgiving started to stick their grubby hands. ---------------------------------------->
Pages