Tom Talks
Tom Talks
SHOULD THIS GUY PAY HIS MOTHER'S MEDICAL BILLS? A Redditor who felt neglected as a kid now finds that his mother has cancer...and the hospital is calling him to arrange a payment plan. Does he have to help her?

Read the original Reddit post
THERE IS ONE THING TOM HAS BEEN CONSISTENT ABOUT Find out what it is!
A REDDITOR WANTS TO KNOW IF HE'S AN ASSHOLE for refusing to give up his airline window seat to a crying child. Find out what Tom would do!
BEING TAKEN TO HR FOR NOT BENDING TO THE DEMANDS OF AN OFFICE ATTENTION WHORE What if you showed up at the office and just did your job? Many gals would hate that!
WHAT DOES 168 MEAN TO ME? A lot, it turns out!
EPISODE NO. 500 Tom has some thoughts on the New Year.
CHRISTMAS IN THE BRONX/JEAN SHEPHERD'S RADIO VERSION OF A CHRISTMAS STORY 
Here it is: Tom's annual Christmas gift to all the P1s! In the first two hours, Tom tells about his lifelong relationship with the Christmas holiday. Then, Tom introduces you to his broadcasting idol growing up, Jean Shepherd, creator of the characters in the classic holiday film A Christmas Story.
You've probably seen A Christmas Story, but did you know that it began as a story told on the radio when Tom was a kid? Hear the story of Ralphie, his brother Randy, and the Red Ryder BB gun as it was originally told by one of America's all-time great storytellers...and Tom's biggest influence in his style of storytelling. An exact, unedited recording of the original aircheck from WOR/New York just as Tom heard it under the covers on the night of Christmas Eve! We recommend listening late at night, under your tree or under the covers, for the full effect.

NOTE: Super Premium subscribers will hear the original WOR commercials from the late 60s for the sake of authenticity on the Jean Shepherd segment.

WHAT TO DO ABOUT CHRISTMAS Even though he's always been an atheist, when he was a kid, Tom loved Christmas so much. It took him years of reflection to figure out why he loved it, and why it's different for him now.
FINAL WEEK TO GET A CASE OF PEDAL TO THE METAL SYRAH AT LESS THAN HALF PRICE! HERE'S HOW:
TOM LOSES HIS BEST FRIEND Find out why Tom has had such a rough couple of weeks.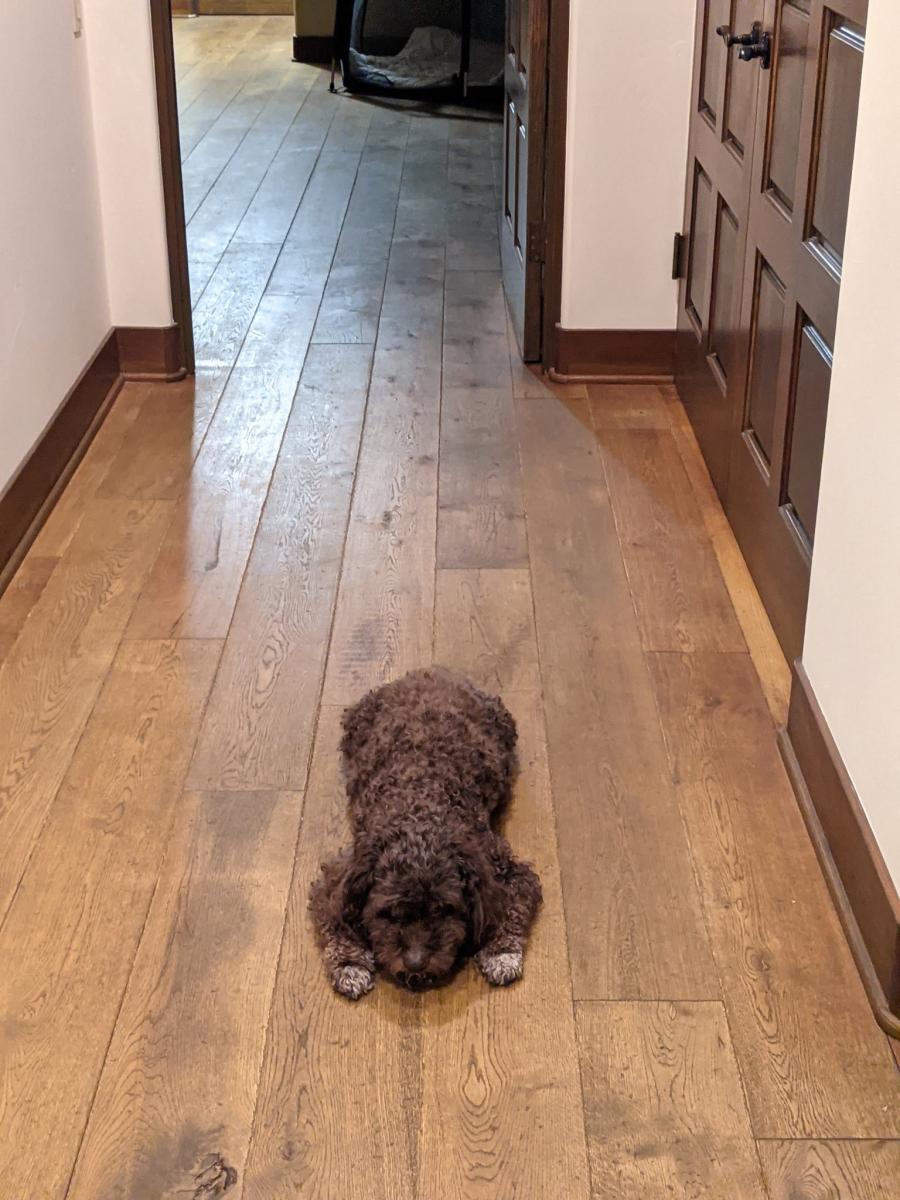 Hazel at 2:45 PM waiting for Tom to arrive at his home studio for his "live show", which ended in 2018, but she continued to show up at the studio 7 days a week until 2022.
WHY DO WE ALL HATE EACH OTHER THESE DAYS? Tom has a theory.
Pages